Hacking Privacy
Youth-run design jam tackles how to build a digital future that protects everyone's privacy.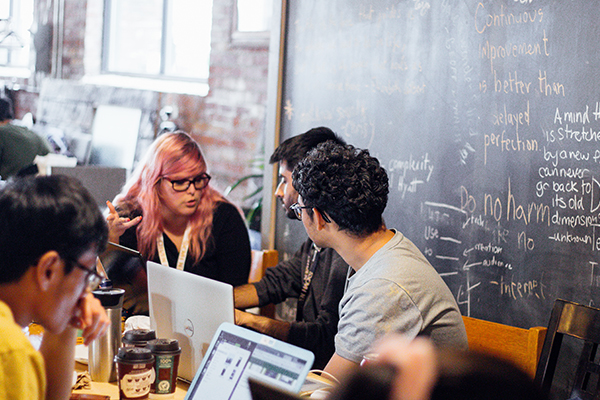 Source : Michael Zhang – Mach 1 Studios
Growing up in a digital age, with technology ever-present, young people are said to have a different sense of privacy. Constantly connected and with much of their lives lived online, some might argue they don't value privacy the same way older generations do. Citizen Hacks would disagree. The youth-run group, whose altruistic goal is for the next generation of innovators to "actively participate in building a digital world that works for everyone," wanted to give young people a chance to take a deep-dive into the complex issue of privacy. While still in high school, members of the group decided to organize a design jam to try and answer a key question: "How can we build a digital future that protects everyone's privacy?" Over 36 hours straight, participants worked in teams to design, create, and pitch answers to this challenge. "Real Results" spoke to event co-organizer Benn McGregor to find out more.
How did you come up with the idea for a design jam about privacy?
Three of us wanted to organize a privacy design jam – myself, along with two of my friends, Mio Yamanaka and Marcel O'Neil. At the time, we were at the very end of high school. [All three are now third-year software engineering students at the University of Waterloo.] We were inspired to do something when Dr. Ann CavoukianFootnote 1 offered to speak at our school. We reached out to her and asked if she would be interested in speaking at a design jam if we were to organize one, and she agreed. Marcel discovered the OPC funding opportunity, so we applied.
Privacy doesn't seem like something many high school students would be thinking about …
We wanted to give students the chance to explore what is a very complex issue. We were spurred by a desire to give students an opportunity not just to build cool technology, but cool technology that is concerned about real world impacts, specifically privacy.
What concerned you about privacy?
In the last half of the decade, there's been a lot more awareness about these things. We were hearing about the Cambridge Analytica scandal, and practices of social media companies that were undermining personal privacy, and search engines' practice of collecting people's data to sell to advertisers. Everybody is using technology now, which means privacy is an even bigger concern. But there are no clear answers yet. People don't quite know how to go about dealing with privacy, and it varies in different contexts. We thought that as students – the next generation who will be building these platforms – we should have these skills in addition to the technical foundation you learn in university.
Why a design jam?
These problems are all very complex, and there are no clear-cut solutions, but they have real-world impacts. Developing the skills to deal with these really complex challenges was part of the impetus for organizing the design jam. During the event, we offered workshops, presentations, and panels so participants could learn some skills and different approaches to creating privacy-oriented technology.
Young people are said to have no concept of privacy, or at least a very different one than older generations. Do you agree?


"If there's no privacy, there's no freedom for youth to explore their identity, to connect with others, to investigate different ideas, to try creating new things."
I feel like young people are often lumped into a group of people that don't care as much about privacy or have a different concept of privacy. But I don't agree. If there's no privacy, there's no freedom for youth to explore their identity, to connect with others, to investigate different ideas, to try creating new things. Also, when you know that your data is being collected and you're being observed, it affects your behavior. Without privacy, youth don't have the chance to mature in an authentic way.
Who participated?
Primarily high school and university students interested in engineering and computer science, but we also wanted to attract students from other fields like business, the arts, and the humanities, so we ended up with a diverse group of participants. There were also some privacy experts in attendance who shared their expertise. Having participants from diverse backgrounds gives you different perspectives. That's important, because a more inclusive design process will also help to build trust.
How is trust related to the issue of privacy?
Trust is a huge component of privacy. Users are putting their trust in a company when they disclose data. They trust that companies will not take advantage of this. So companies need to design technology to protect users' privacy to maintain this trust.
How did the event go?
Having everybody in the same room, literally, and having the workshops, and hearing about other people's projects – it was very interactive. And because of the time constraint, you're not bound up by the considerations of trying to build something and turning it into a business and all those real-world concerns. Everything was at a very conceptual level and it was fast because you only have 36 hours to come up with something.
What potential career impacts does this project have on young people like you?
It's very important to have the ability to design privacy-protecting technology because companies are looking for these skills more and more. As a Waterloo student, I alternate between school and work every four months. For example, my last work term was at a video game company, but we still had to talk about the GDPR [the EU's General Data Protection Regulation], and think about how to collect data in a way that protects people's privacy.
In an ideal world, if you're working for a company developing whatever it might be, you'd always be asking 'how does the product implement the principles of privacy and privacy by design?' so that privacy becomes a consideration much further upstream in the development process. Just like building ethical, less-biased AI, it should be a consideration as you're building the technology, not something that's added on at the end. We're not quite there yet, but hopefully Citizen Hacks helped move the needle forwards a little bit more among the next generation of developers and innovators.

Winning Projects
Source : Michael Zhang – Mach 1 Studios

Winners Anne Chungand Lena Nguyen
(second from left and middle) pose with Paige L.,
a Major League Hacking representative (left), and
event organizers Benn McGregor (second from right)
and Marcel O'Neil (right).
Summary of all design jam projects.
Here are the winning projects:
Safe.net: A browser extension for children that automatically blocks out fields in forms for personal information so that children can't inadvertently give away their data (or their parents') to random websites.
Enclave: Based on the idea that users should "own" and "control" their data, it's a protocol for making personal data accessible to organizations while keeping the user in control. Users create enclave.yaml files in public and private file locations and specify the information they would like to share through key value pairs.
Privaseeable: A creative take on privacy protection. It's a browser extension that will modify text on a screen to make it hard for people other than the viewer to read the text, helping people maintain privacy in public spaces.
Starmixer: A cryptocurrency tumbler for Stellar, shuffling your Lumens with other peoples' to allow you to make more private transactions.
Translatebot: A Keybase bot which allows anyone anonymously to translate any piece of text to any language from the list of our 20 languages.
Whodis: A phone application that runs in the background and when an incoming call is detected, dispatches an overlaying notification that alerts the user about additional information on the incoming number so that a stronger decision can be made about whether or not to take a call.
Bottom Line: A terms of service summarizer in the form of a Chrome extension that searches through the terms and conditions agreements and finds keywords and their contexts within the agreement to form a comprehensive summary.

Engaging the Hackers: Supporting Learning
Source : Michael Zhang – Mach 1 Studios
Along with a keynote address delivered by Dr. Ann Cavoukian and panels on ethical design thinking and the future of AI, several workshops were offered throughout the design jam. Topics ranged from hands-on to more conceptual learning:
Building privacy-sensitive products for scalable business
The Personal Information Protection and Electronic Documents Act (PIPEDA) and how to translate concepts in the legislation into project ideas
Specific technologies:

Keybase Bots
DNS (Domain Name System) Security
Privacy Enhancing Technologies for the Internet
Offensive Cybersecurity

Youth as Agents of Change towards Privacy by Design
Other articles from Real Results
Disclaimer: The OPC's Contributions Program funds independent privacy research and knowledge translation projects. The opinions expressed by the experts featured in this publication, as well as the projects they discuss, do not necessarily reflect those of the Office of the Privacy Commissioner of Canada.
Report a problem or mistake on this page

Error 1:

No selection was made. You must choose at least 1 answer.
Date modified: