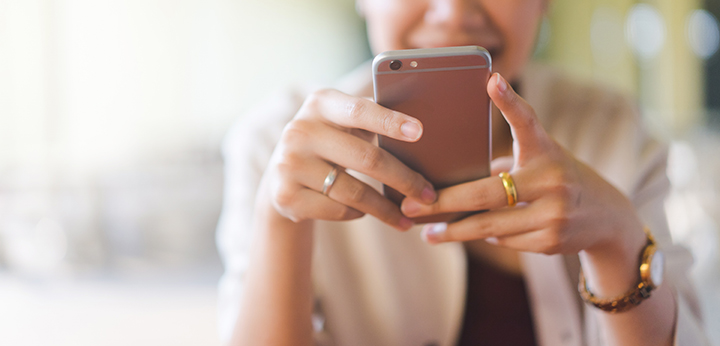 Smartphones and other mobile devices make it easy to connect and share. They can also hold huge amount of sensitive personal information, and are vulnerable to threats such as viruses, spyware and ransomware. Such malware can spread a number of ways, including through text, apps, email, and web links. A malware attack on your device could pose a risk to your privacy and expose you to identity theft or fraud.
March is Fraud Prevention Month across Canada. Our office would like to encourage Canadians to make informed privacy choices and take steps to protect their personal data from loss, theft and threats.
There are many ways identity thieves can gain access to your information, but there are also plenty of steps you can take to help protect yourself. Below are some tips to keep your personal information safe on your mobile devices.
Pay attention to permissions and privacy policies
When you want to sign up for an online service or download an app, learn first about what personal information is collected and the privacy controls offered. Before hitting the "I agree" button, take the time to read the privacy policy and the terms of use. If you're not comfortable with how a service handles personal information, don't sign up for it.
Carefully read mobile app permissions before granting access to potentially sensitive device features, such as location, contacts, device ID, camera or media files. You can say "No" if you are asked to allow actions such as accessing your microphone or tracking your location if those actions are not integral to the product or service.
Prevent unauthorized access to devices
Use the automatic lock and password protect features on your device. This will help prevent other people from using it or being able to see the personal information on it. Use unique and strong passwords that are not obvious. Check whether the device or service offers multi-factor authentication (your password, plus an extra layer of security) and enable it, since it can help you to better protect your account.
Protect devices from harmful programs, apps and websites
Only download apps from official and trusted sources. Keep your devices, software and apps up-to-date. Be sure to install updates and patches regularly. Malicious software is constantly evolving. Updating software and applications, as necessary, is an essential step in protecting yourself. You should also regularly delete programs and apps you no longer want or use as they could also become infected.
Limit sharing of information on devices
Before posting information or images on social networking sites, change the default privacy settings. Review and set your preferences so that information is shared only with those you intend to share it with. Choose the highest and most restrictive security settings available. Also refrain from giving out information like your birthday, full name, phone number, social insurance number or address.
Adopting these tips doesn't take long, but will lessen the chances that your personal information winds up in the wrong hands.
About Fraud Prevention Month
Fraud Prevention Month is an annual campaign, led by the Competition Bureau, to help Canadians recognize, reject and report fraud. The Office of the Privacy Commissioner of Canada is one of more than 60 participating organizations.
To learn more about fraud prevention and protecting yourself from identity theft, see Tips for using privacy settings and Protecting personal information on your mobile devices or visit the website of the Canadian Anti-Fraud Centre.