Surveillance, identity, social networks and big data are all compelling subjects for an artist to explore  – in fact, IAPP has already combined art and privacy through its Navigate event mashing up art interventions with provocative talks on the future of privacy, and a presentation by their president Trevor Hughes on top privacy issues in which he marries each trend with a compelling piece of modern art.
Inspired, we decided to put together our own list of artistic discoveries we've culled from around the Internet.

New York-based artist Charis Poon created the playful Steganosaur, an interactive work that allows users to create encrypted messages and share them with friends. She writes, "Because the encryption is a colorful geometric pattern, someone could potentially display it physically or digitally anywhere and have others perceive it as simply a design. The author knows, privately, to themselves, the true meaning."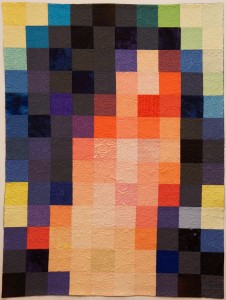 Privacy geeks know Lorrie Faith Cranor (that's her, above) as a computer science professor and privacy and security researcher at Carnegie Mellon. She's also an accomplished quilter who has explored combining art with ways to visualize privacy and de-identification. Her De-identification quilt was sliced, spliced, re-assembled, overlaid, embroidered, hand-quilted and machine-quilted but, as Cranor writes, "It is a lot like personal data de-identification, in which data is removed and digital noise is introduced, but in the end the de-identified data might be re-identified given sufficient contextual information."
And while we're on the subject of fabric art, when Facebook built a new data centre in Prineville, Oregon they invited the local quilters at the Prineville Senior Center to create quilts depicting how Facebook connects the world.
French artist Laurent Grasso's innovative exhibition Uraniborg, is named after the observatory built and operated by Danish astronomer Tycho Brahe. The exhibition itself is housed in a labyrinth built by the artist featuring artifacts examining themes of control and surveillance, such as the short film shown above, featuring a camera-equipped falcon – a parallel to modern-day drone technology.
Who says privacy isn't fashionable? Artist Adam Harvey has designed a line of Stealth Wear that employs design and specialized materials to shield the wearer from being detected and recognized by surveillance technologies. He was compelled to develop the line as a response to the increasing use of domestic surveillance drones in the U.S.: "Data and privacy are increasingly valuable personal assets and it doesn't make sense to not protect them."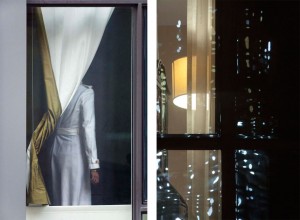 Taken from his own home in New York City, Arne Svenson's photographs in The Neighbors are the result of the artist pointing his lens at the floor-to-ceiling windows of the building across the street. As a recent review of the controversial exhibit points out:
"That is the power of Svenson's art: it challenges the artificial lines we draw around the public and the private, especially in a place where true privacy is a luxury. It also shines a light on the fact that for the many in this city who live in luxury, part of the appeal is in its display."
In a similar vein, Anthony Reinhart and Darin White of Kitchener, Ontario have examined the prevalence of inconspicuous and ubiquitous surveillance in the photography exhibit, DISCONNECT.
Artist and geographer Trevor Paglen has used observational data to track and photograph satellites in a vivid and high-tech method of "watching the watchers". The photographs that make up The Other Night Sky are other-worldly –enough to tell you something is out there, but not sharp enough to know exactly what it is.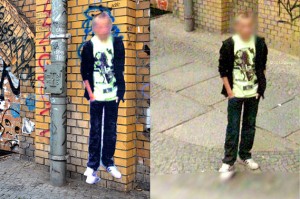 And finally, with a nod to street art and graffiti, the Street Ghosts project brings life-sized pictures of people found on Google Street View to the same spot where they were taken. The result is a jarring juxtaposition of the virtual and the real, or as artist Paolo Cirio puts it: "The real world of things and people, from which these images were originally captured, and the virtual afterlife of data and copyrights, from which the images were retaken."
So what are some of your favourite artistic expressions about privacy? Let us know in the comments!